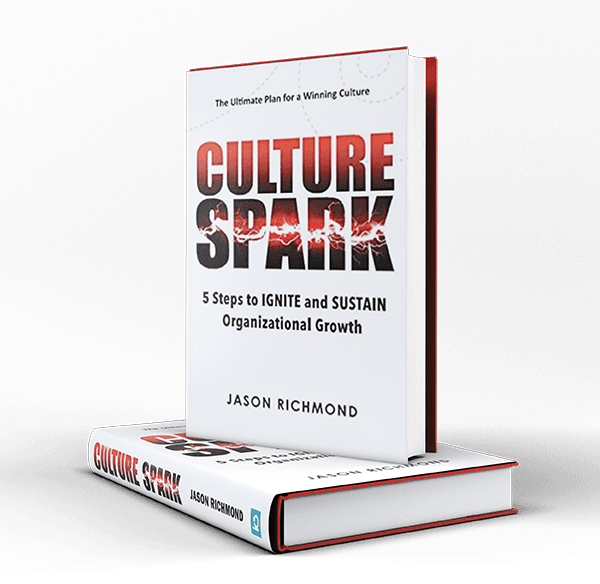 Culture Spark

5 Steps to Ignite and Sustain Organizational Growth
The fundamental text behind organizational change. Unlock the 5-step strategy that has driven cultural evolutions for companies around the globe.
Culture Spark: 5 Steps to Ignite and Sustain Organizational Growth
The fundamental text behind organizational change. Unlock the 5-step strategy that has driven cultural evolutions for thousands of companies around the globe.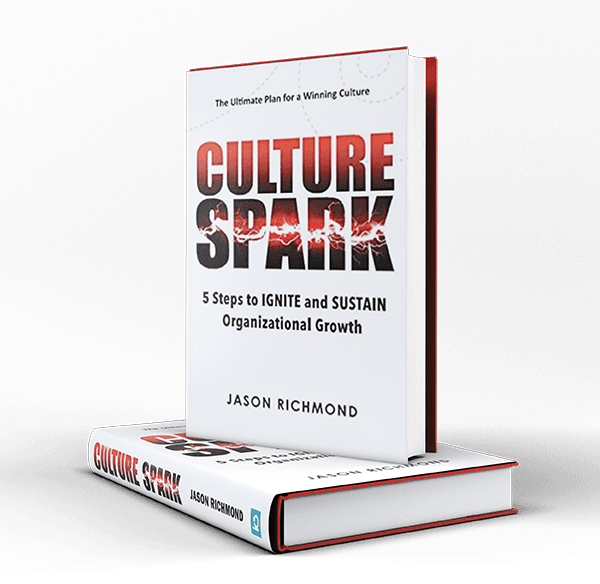 Culture Spark
Spark meaningful conversations about culture, spark proven processes, and spark purposeful change in your organization.
Foster fulfilled employees
Employee satisfaction and fulfilment are two of the leading drivers to growth and customer satisfaction. Learn how to create an environment where your people can thrive.
Align purpose with profit
Culture is an investment. When you decide to embrace change and evolve your culture, you are giving renewed purpose to your team, one of the leading predictors of profit.
Recapture Startup Spirit
Remember that energy and personality that your company had in its early days? Learn how you can dig deep and embrace the same spirit that wrote your success story.
Define and Shape an Unstoppable Culture
Take the wheel and drive your organization towards creating a culture that exudes the same characteristics you see in the people you trust, respect, and admire the most.
"A powerful framework for using company culture to create value.
Definitely a strong weapon for any leader."
―Leonardo De Biasi, Business Development Director, Techedge Group
Debunk Myths and Reveal Hard Truths
Culture is one of the most coveted topics in the modern business climate. However, it is also one of the least understood. Culture Spark helps readers to shatter limiting beliefs about culture.
Here are some of Culture Spark's hard truths:
✔ Developing culture is not HR's responsibility
✔
Perks and benefits do not create great culture
✔
Hiring for culture fit is critical
✔
Culture and cost are not necessarily correlated
✔
Company culture is not a passing fad
Understand the Impact of Culture
Culture is the lifeblood of organizations. It runs deep and it runs throughout. However, the role and impact of culture in each business unit can be highly nuanced. Culture Spark charts a path that organizations can follow in order to weave a cohesive culture story from start to finish.
Understand the cultural impact of:
✔ Succession planning
Unlock the 5-Step Change Methodology
Strategic, purpose-driven culture change does not happen overnight, and it does not happen without careful planning and coordination. Culture Spark gives readers a 5-step methodology to implement lasting cultural evolutions.
The 5-step methodology:
1. Define
It's time to spark change at your organization.
About the Author

Jason Richmond is the President/CEO and Chief Culture Officer of Ideal Outcomes, Inc. During his career of more than twenty years, he has had the good fortune of working with companies of all sizes in a wide variety of industries. Jason has partnered with numerous start-up companies to help build solid foundations that have enabled them to become noted industry leaders. He has also worked closely with established Fortune 100 companies to create Leadership Development Journeys. In addition, Jason has provided thought leadership and innovative consulting services to a wide range of mid-size companies.
Over the course of his career, Jason has observed and captured best practices from successful organizations and integrated them into the core principles that form the foundation of Ideal Outcomes.

Jason's primary career focus began when he took the Dale Carnegie course after living and working in Australia for three years. He fully embraced Carnegie methods and philosophies as he witnessed how they impacted careers and companies around the world in such a positive way. This inspired Jason to partner with Dale Carnegie, which led to him becoming a valued resource for many organizations. In this capacity, he acted as an organizational development partner, helping companies implement talent development paths, culture maps, succession plans, and learning strategies.
This stimulating career path provided Jason the opportunity to travel the world and collaborate with a talented collection of professionals in a multitude of international cultures.
Through Ideal Outcomes, Jason shares what he's discovered. His mission is to draw from his experiences and apply the lessons he's learned to his life, his team members' lives, and his clients' business challenges.
Jason believes that you don't learn if you remain stationary. That's why he dedicates his life and career to continuous improvement. Ultimately, Ideal Outcomes does everything it can to make the lives of its clients better, which in turn benefits the organizations they serve. Jason achieves this by connecting closely with each of his clients on an authentic human level while working to foster energetic business cultures that exude the characteristics that define the people they most trust and admire.